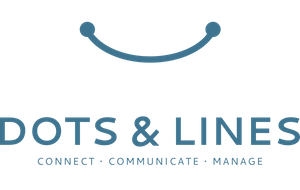 I contribute to The Dots & Lines LLC a boutique marketing and communications agency. 
This collaboration with the great team at the Dots & Linesto enables me to serve even better my clients.
We are headquartered in Atlanta, GA with an office in the greater New York City area. Our customer-centric approach means we always keep client objectives as our top priority, whether that's building brand awareness, increasing sales, growing market share, or enhancing the customer experience.
Our structure, size, and team expertise enable us to provide the high level of service expected at a fraction of the cost of larger agencies.
Dots & Lines is part of The Nina Pinta Group, a global international network serving clients in the managed travel and IT space.
Hands on Marketing Strategy
My work specializes in the global, cross-cultural sales & marketing arena.
I segment markets to tackle.

I advise on sales reorgs.

I streamline sales-marketing workflows.

I implement or fine-tune marketing automation solution.

I boost company reputation by the management of branding, content, PR, social media and review management.
Your marketing investment deserves a return. I set the strategy, deploy and run the tools you need to generate more business quicker and to track your KPIs. No more guesswork. That's what I call "data-driven marketing".
From Leads to Signed Deals
Process driven
We start by asking questions.
Questions about your vision, your company's culture, your objectives.
We like to speak to your clients, to product owners within your company…
We will build customer personas, to understand your target audiences.
We audit your current marketing activities in order to set SMART objectives and relevant KPIs.
Social Media
Media and public presentation coaching
Sales organization and leadership coaching
Today's customer is more empowered than ever.
Providing a positive, trusted, and engaging customer experience is a powerful way to differentiate your brand.
Crafting the perfect message:
We have access to the best travel industry experts to draft amazing, reputable content.

We work with an international network of journalists, and writers.

Our creative, engaging content will get your brand in front of your target audience.
The right channel:
Website

Landing pages

Social media

PR

Blog

Sales kits…

Email
For the right content:

Success story, expert interviews, webinars, blog post, survey, video, demo, tips, top-10…
We build the process to orient a first-time user of your service into an engaged, active and repeat user during their first interactions.
Focus on the benefits rather than the features

Creative lifecycle emails

Become personal and available
We build long-term customer relationships with meaningful conversations at scale.
We connect with your target audience on a personal level.

We deliver the right message to the right persona.

Our writing is SEO optimized

We grow your email list with an automated newsletter

Social Media
Media and public presentation coaching
Sales organization and leadership coaching
Be found
Drive more quality traffic to your website and landing pages.
End-to-end conversion funnel

PPC campaigns

Optimize digital presence with Call to Actions and lead acquisition tools

Score and automate lead nurturing

Feed sales with Marketing qualified leads

Data-driven decisions
Social Media
Media and public presentation coaching
Sales organization and leadership coaching

Originally published in US1 PrincetonInfo By Lynn Robbins February 6, 2019 Content marketing is essential for any business whether it be a global pharmaceutical company or a local…